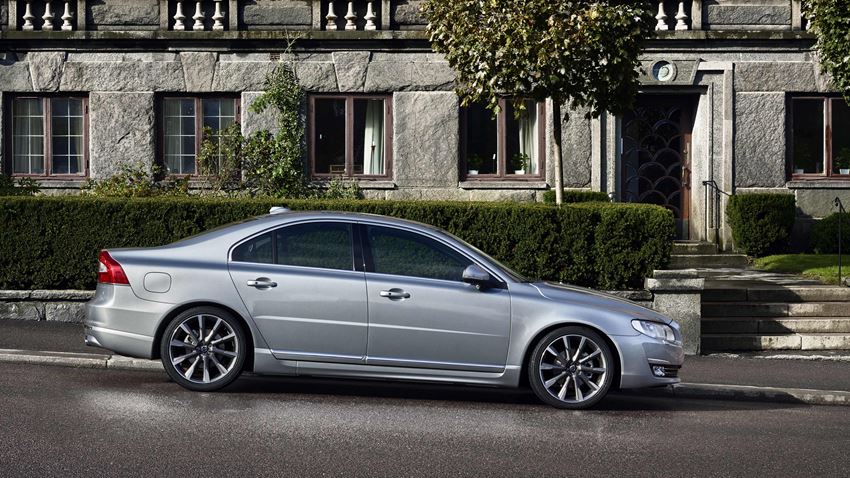 Luxury at it's finest, the Volvo S80

There are plenty of reasons to like the 2016 Volvo S80. Whether you want a comfortable ride, a well performing engine, a spacious yet noiseless cabin or any number of the insane amount of features available to customize your ride, the S80 aims to please. This doesn't just set the bar, it surpasses expectations and finds a way straight into your heart and in your driveway for a long time to come. Let's take a dip into the design, features, and engine performance to see what exactly you are getting when you sit behind the wheel of an S80.
Exterior
Where's a better place to start than the outside and work our way in. Volvo has cultivated an understated brilliance in their vehicles. With subtle contours the result is a handsome and stylish car that doesn't yell for attention but rather invites you to take it in slowly and see the whole picture. The sweeping roofline and angled hood meets the twin tailpipes and stylish wheels to create the perfect athletic look. Honestly it's hard to find something wrong with the outside of the car and when has that been a bad thing?
Interior
The interior is reminiscent to it's homeland of Sweden while bringing comfort and stylishness that we Americans crave in a luxury car. There's no doubt about it, the S80 encompasses all of what they set out to achieve in and understated yet beautiful modern design, with a functional yet aesthetic design dashboard it will be easy to navigate the controls. Like I said before, the design is understated and calls little attention while performing its duty, the perfectly lit dash and gauges prove to be a great balance for giving you the information you need while looking good doing so.
Features
It's hard to bring up the interior and not talk about features. This is because there are just so many to choose from which either come standard or are optional in the form of packages and standalone features.
With standard equipment including leather seating, a 7-inch color display, dual zone automatic climate control, heated front seats, 18-inch alloy wheels, a pollen filter, Sensus Connect information system, and an auto-dimming rearview mirror. As far as audio is concerned you will have an eight speaker sound system, CD player, HD radio, USB, and auxiliary ports.
As for optional equipment you can find quite a wide range of features. The Climate Package for instance has heated steering wheel, heated rear seats, and heated windshield/washer nozzles, perfect for a colder climate. While the Tech Package adds on adaptive cruise control, lane departure warning and collision warning systems. Then the Inscription Package has perforated leather seating, ventilated front seats, leather dash, and a walnut wood trim. The Platinum package adds on power-folding side mirrors, blind-spot monitoring system, and voice controlled navigation. It's safe to say you have plenty to choose from with the S80.
Performance
For those concerned about what's under the hood you will be happy to find a powerful engine to carry you effortlessly through your travels. The S80 has one engine option that is more than enough, it is a Drive-E 2.0-liter turbocharged inline 4-cylinder engine that gets 240 horsepower. Thanks to the additional Eco mode you will be able to benefit from a fuel saving and eco-friendly design that lowers emissions while increases fuel economy.
It's easy to see why people love the S80 but you won't know for yourself until you check it out in person.
At Volvo of Lisle you know you are in good hands the moment you walk through the door. From the superb staff that will work tirelessly to find the perfect fit for you to an extensive list of inventory to choose from, you will love what you find. No matter what color, what special feature, or what salesman, you will find what you want and be nothing less than happy that you came.
The only thing left is to come in for a test drive today. And guess what, Volvo of Lisle is always more than accommodating. Just stop in to their showroom in Lisle where you'll find some of the best in the business. Volvo of Lisle serves Naperville, Bolingbrook, Clarendon Hills, Wheaton and Aurora so no matter where you are in the area, you're never too far for a visit. What are you waiting for? Don't let that perfect vehicle get away, go today.