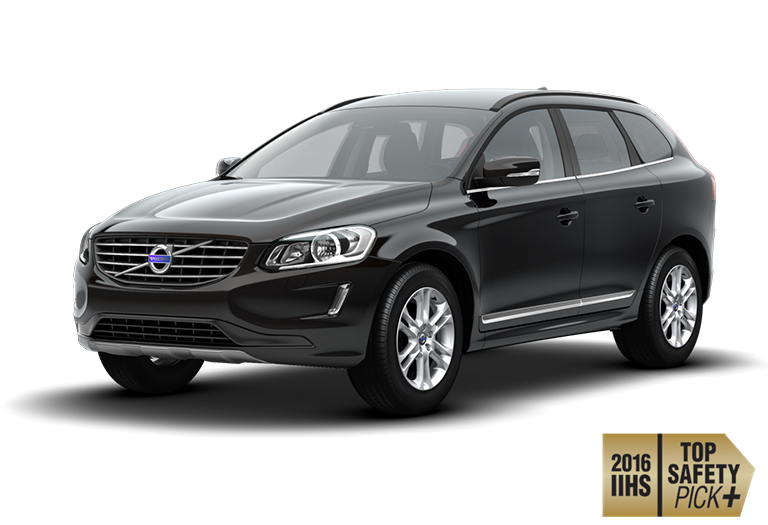 The XC60 has been making waves since it was introduced and that trend continues into 2016. With added features, top of the line safety, and a sleek design the XC60 is an eye-catching fully functional SUV that is worth taking note of. Just see what people are saying around the web about this thoroughly impressive SUV.
Reviews
"It's been hard for family vehicles to shake a reputation for being boring, but Volvo is doing a pretty good job of giving consumers a fine alternative with its 2016 XC60. We've appreciated the XC60's sleek good looks and stylish cabin since the model was introduced back for 2010. The XC60 is still solidly a Volvo at its core, though, and these attributes simply add polish to what is still a very sensible luxury crossover SUV. Indeed, the five-passenger XC60 boasts plenty of interior space, a comprehensive feature set and top-notch crash test scores. It can also be pretty fuel-efficient. Volvo revitalized the XC60's engine lineup just last year, and with impressive results. The front-wheel-drive Drive-E T5 and T6 versions have some of the best EPA-estimated fuel efficiency (up to 26 mpg combined) you'll find in this segment." -Edmunds.com
"Volvo's crossover utility vehicles have always handled like cars, and the 2016 XC60 is no exception. It conveys a secure feeling in the corners that inspires driver confidence. The driving characteristics are quicker in models with the lighter Drive-E engines; the more powerful turbocharged and supercharged T6 front-wheel-drive model puts out enough torque that you can feel the stability control clamping down to keep it pulling in a straight line. All-wheel-drive models offer 9.1 inches of ground clearance and can take occupants through deep snow, up rocky trails, and across muddy sports fields without fuss or drama. And despite somewhat deliberate acceleration, the AWD XC60 really comes into its own on the highway—with plenty of power in reserve for passing." -TheCarConnection.com
"Luxurious, fun to drive and distinctly Swedish, the 2016 Volvo XC60 luxury SUV competes in a crowded and tough segment of the market...this Volvo delivers. On top of that, it follows its own lead on styling, and leads the pack when it comes to safety innovations, as one would expect. The new 4-cylinder engines introduced last year offer plenty of power without sacrificing fuel economy, and its all-wheel-drive system provides assurance on slick roads. Then there's the XC60's best-in-class 5-star crash-test ratings, making the XC60 a top pick for buyers who have children." -KBB.com
"To be good, a small luxury SUV needs to be a family car, a utility vehicle and a commuter car, and the reworked 2015 Volvo XC60 does all that. It provides an upscale environment and a dash of surprise — both on the window sticker and under the hood." -Cars.com
"Volvo has long been a leader in safety features, and the XC60 maintains that tradition. Numerous competitors offer systems that will autonomously initiate braking at highways speeds if the computer decides the driver isn't responding to the situation, but they're often far too zealous and limited in their abilities. Volvo's City Safety feature operates in heavy urban traffic and will completely stop the car from speeds up to 30 mph, and it's very well programmed. There are now pedestrian- and bicycle-detection features baked into the system, which makes it even more impressive." -CarandDriver.com
You may be left asking yourself where you can check one of these out for yourself. They have you covered at Volvo of Lisle.
At Volvo of Lisle you know you are in good hands the moment you walk through the door. From the superb staff that will work tirelessly to find the perfect fit for you to an extensive list of inventory to choose from, you will love what you find. No matter what color, what special feature, or what salesman, you will find what you want and be nothing less than happy that you came.
The only thing left is to come in for a test drive today. And guess what, Volvo of Lisle is always more than accommodating. Just stop in to their showroom in Lisle where you'll find some of the best in the business. Volvo of Lisle serves Naperville, Bolingbrook, Clarendon Hills, Wheaton and Aurora so no matter where you are in the area, you're never too far for a visit. What are you waiting for? Don't let that perfect vehicle get away, go today.