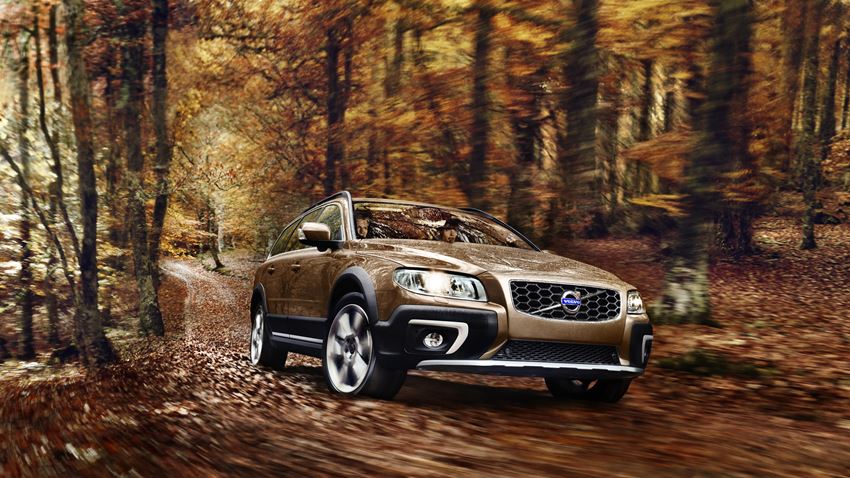 The XC70 is More than Just a Wagon
While the XC70 is classified as a wagon the luxury design is more reminiscent of an SUV with more style and class. It would be a mistake to look past the XC70 because of the immense amount it has to offer. With everything from a wide array of features to world class safety to a reliable performing engine this could be the perfect car for a family who enjoys weekend retreats. Don't forget that this comes from Volvo, we are known for the safety ensuring that every passenger is safe while retaining a modern look. Let's take a tour of this tour de force.
Exterior
When you first look at the XC70 wagon you'll see a simple yet functional design that has an aesthetic appeal to it. With plenty of glass to see your surroundings on a safari-like excursion the high ground clearance and skid plates make it the perfect vehicle to find a hidden spot for a picnic. The roof rack and side moldings add to the look of a rugged yet reserved vehicle.
Interior
Don't forget that this is a luxury vehicle. It has plenty of room to comfortably seat 5-passengers and do so with plenty of space. The comfort stems from the cushy leather seating and is surrounded by elegantly designed walnut inlays. The dashboard hosts an elegant control manual that's simple to use and user-friendly while still retaining the minimalist styling. It's hard to bring up interior without talking about the equipment both standard and optional for the vehicle.
Features
The XC70 has a ton of standard equipment that will be able to satisfy you, and don't worry if there is anything missing, you'll be able to throw in a bunch of packages and standalone features. For standard equipment you will have heated front seats, 18-inch alloy wheels, leather seating, moonroof, a power tailgate, a rear parking camera, and a 7-inch color display. As for audio you'll have an AM/FM radio, a CD player and an HD radio played through 8-speakers. It also comes with Volvo's City Safety protection and prevention system.
Now if those don't satisfy you or you simply want more than you can find quite the list of add-ons. Most come in packages which will add a bulk of features in. Take for instance the Volvo Road Sign Information system. This displays road signs and transfers them to the screen on the dashboard for easy reference. Than there are options like a rear-seat entertainment system, heated seats, and a rearview-parking assist, an upgraded 12-speaker premium sound system, headphone jacks, and booster seats. Plenty to choose from.
Powertrain
There are two engines to choose from, which come in either AWD or FWD options. The AWD option is a 2.5 liter turbocharged inline-5 engine that gets 250 horsepower and 266 lb-ft of torque. While the 2.0 liter turbocharged FWD option has 240 horsepower and 258 lb-ft of torque. While not the biggest gap between the engines there is a noticeable difference. You can rest assured that you are getting great fuel efficiency and performance with these engines.
When it comes to deciding on purchasing a new car it should always be advised to take a test drive and with the Volvo XC70 this is no exception, so if you find yourself in the need of taking one or checking it out you will only have to go to one place for that, Volvo of Lisle.
At Volvo of Lisle you know you are in good hands the moment you walk through the door. From the superb staff that will work tirelessly to find the perfect fit for you to an extensive list of inventory to choose from, you will love what you find. No matter what color, what special feature, or what salesman, you will find what you want and be nothing less than happy that you came.
The only thing left is to come in for a test drive today. And guess what, Volvo of Lisle is always more than accommodating. Just stop in to their showroom in Lisle where you'll find some of the best in the business. Volvo of Lisle serves Naperville, Bolingbrook, Clarendon Hills, Wheaton and Aurora so no matter where you are in the area, you're never too far for a visit. What are you waiting for? Don't let that perfect vehicle get away, go today.